Picture Of RCCG Pastor Who Slept With His Female Members Exposed
Hours ago, a video of one Pastor Olusola Bakare with RCCG, Zone 6, Akure, attempting to sleep with a married woman, right inside her husband's house surfaced online and went viral.
According to the reports, the woman played along and allowed him to undress completely before opening the door for her husband and others to come in and then captured him in a video and released it online.
The video sparked mixed reactions with many doubting its authenticity especially as it is an RCCG Pastor that is allegedly involved. Interestingly, one of his victims, reached out to Kemi Filani News to reveal that the Pastor Olusola is indeed guilty as charged and has done so with many of his female church members at his Gideon parish located at Ijoka road, Akure.
How I Cought My Wife With Another Man On Bed – Fani Kayode
The Former Minister of Aviation Femi Fani-Kayode has made it openly that he caught Precious Chikwendu,
his estranged wife, with a married man in bed.
He stated this while reacting to a viral video claiming that he physically abused Chikwendu.
The couple has been reportedly separated over unresolved issues despite having four kids, including a triplet.
In the 21-second video, released by Sahara Reporters, the two could be seen engaging in a heated exchange.
While reacting in a series of tweets on Saturday, he said the short clip was nothing but a "mere propaganda."
Fani-Kayode said he was only trying to prevent her from filming him during the face-off which happened days after he caught her engaging in the alleged unholy act.
He tweeted, "@SaharaReporters posted a video which supposedly depicts me abusing my estranged wife. This is nothing but a propaganda video,
"There was no physical abuse. I simply took the phone from her to stop her from recording me after catching her in bed with a married man days earlier.
"I repeat there was no physical abuse whatsoever and she had been insulting and subjecting everybody, including family members, staff and children, to physical and verbal abuse the whole day. As usual, it was a nightmare!"
"My words in the video are self-explanatory. I urge those that watched it to listen to those words carefully. I told her that everyone wanted peace except for her and all she did was indulge in scandal after scandal. I have never physically abused my estranged wife," he added.
Breaking: Mutuary Attendant Exposes Food Sellers, Pastors Who Use Mortuary Water For Power, Rituals
Mortuary man exposes food vendors & pastors who use mortuary water for rituals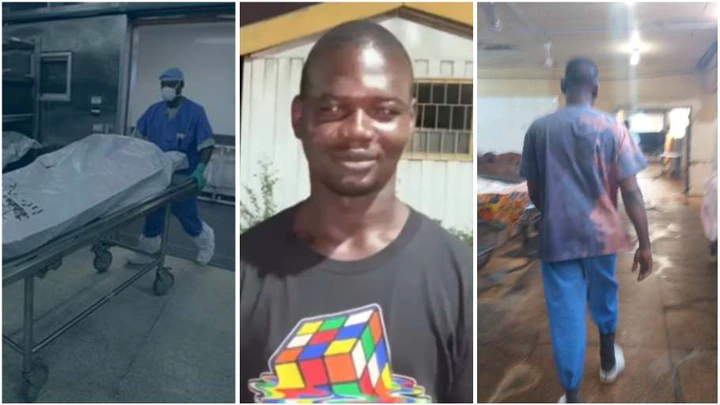 A mortuary man identified as Shakar Lukas, at the Korle-Bu Teaching Hospital in Accra has given a chilling account about how vendors and pastors visit the mortuary to use water from the remains for their rituals.
Apparently, water collected after bathing dead bodies is on high demand on the black market and being sold for millions of cedis to pastors and food vendors.
According to Lukas, most of these food vendors and pastors who visit the mortuary for water from the remains of dead people are desperate for customers to patronise their services.
Lukas also disclosed to Sammy Kay, that even some commercial sex workers are involved in the alarming act in a bid to attract more and tie up those who patronize their services.
He, however, notes that one would have to be spiritually prepared else the dead will haunt the person involved.
According to Lukas, he was introduced into the business by his uncle and for nine years, he has been working with the dead.
"People are using the hairs and water from dead bodies to do some spiritual power. Some women use the dead body water to cook food to sell," he emphasised.
Mali Trip: You Are Now A Travel Blogger – Aisha Yesufu Blast Buhari
Rights activist and co-founder of the Bring Back Our Girls, BBOG Movement, Aisha Yesufu has condemned President Muhammadu Buhari's peace mission to Mali, saying more than anything else, he ought to have stayed put to address the myriads of challenges facing his own country.
Aisha who is famed for her consistent crusades for social justice and good governance noted that with the worsening security situation in the country, the President should have known that leaving for Mali is the least expectation of Nigerians who look up to him for result-driven leadership.
In a two and a half minutes video made available to Vanguard, the rights activist likens the President to a blogger "who has since been sending Nigerians, pictures and videos of him wearing a mask."
She said: "Our travel blogger is back in business as he has jetted out to Mali. Anything that will make him be on the plane and anything that has to do with travelling outside the country, President Muhammadu Buhari will do it. He is there to talk about the political situation, unrest and everything in the Francophone country. Meanwhile, his country is boiling, his country has practically fallen but that doesn't concern President Buhari. All that concerns him is an opportunity to stand on the steps of the Presidential plane and wave.  They are already sending the pictures to us and that is all that matters!"
Continuing, Aisha said it doesn't matter to the Commander-in-Chief that Boko Haram insurgents "have just murdered some Nigerians whose lives and properties he is supposed to protect and it doesn't matter that citizens are being killed every day. It doesn't matter that security agents are being killed all over Nigeria. There's so much insecurity in the land, so much poverty and hunger in the land. But all these don't matter. What matters is that the opportunity of travelling came and he grabbed it.
Igweochacable is all about breaking news, entertainments, Biafra/ IPOB news update , gist, music, videos and lots more from across the globe .
Reach us via Email: Igweochacablenetwork@gmail.com
Facebook: Igweocha Cable
Twitter: @IgweochaN