Forget Biafra, Here Are Two Reasons Why Biafra Can Never Be Achieved – Oduse David
The agitations for the secession of Igbo Nigerians from the country, can be traced back to 1967, when Lt. Colonel Ojukwu declared the Eastern Region, as an independent country, during the Military regime under Gen. Yakubu Gowon.
Although, they failed to maintain their new state, by losing to the Nigerian side during the civil war which took place between 1967 and 1970. Nevertheless, the agitations persisted for the realization of the Biafran Republic.
It's worthy to be noted that the Igbos kept quiet during the first sixteen years of democratic rule in Nigeria. From 1999 till the end of Goodluck Jonathan's administration, the agitations were quite insignificant, if there was any at all. Immediately the 2015 presidential elections declared Muhammad Buhari as winner, the agitations for Biafra became renewed. This time around, Mazi Nnamdi Kanu became the literal saviour that God sent to deliver them from Nigeria. Well that's a story for another day.
Despite the agitations, I took my time to write two cogent reasons why the Biafran Republic can never be materialized. They're listed as follows;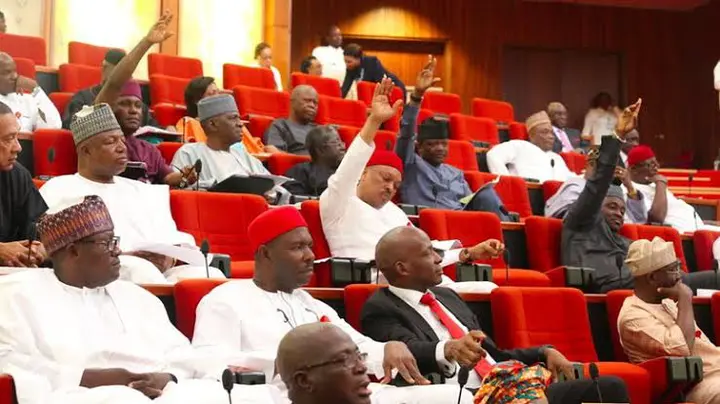 1. Politicians Won't Support Them.
In case you don't know, the 1999 constitution declared Nigeria as a federation with the whole 36 states. That is to say, Nigeria was established as a country in the legal documents of the nation. For Biafra to be possible, the National Assembly has to pass a vote of two-thirds of the entire house, supporting the motion.
Let me start from here, the Constitution has to be amended first. In the amendments, it will be stated that Biafra is no longer part of Nigeria. But the reality is that no legislators will sponsor such amendments. Even, the Senators and Honourables from the East won't support it. Therefore, this is the strongest reason why Biafra can never materialize.
2. Igbos In The South-west Don't Support Biafra
If you ask the average Igbo man living in the South-west if he's ready to go back to the East, once Biafra get pronounced as an independent country, the common response is "no."
You see how it works? Even, if they're to pass a bill based on the number of votes from Igbos, a large percentage of Igbos in the west will vote against it. That's another reason why Biafra can never be possible.
While some people keep agitating in the East, some are praying against it, in the South-west. It's no their fault anyway. You can't expect someone who have invested much of their lives and resources in another man's land to leave just because some other people want to leave. It's not just possible. If you think I'm lying, you can your people in Lagos and ask them the same question. You'll be shocked!
Conclusion
I can keep writing on about why Biafra can never materialize, but I'll drop my pen here. Igbos, IPOB, MASSOB and Mazi Nnamdi Kanu should just forget the possibility of Biafra. It's a dream they need to wake up from. We're in this Nigeria together.
What do you think about this topic? Do you think Biafra has any possibility of coming to pass? Drop your opinions in the comments section.
South East Now Divided Between Biafra And 2023 Igbo Presidency – Opinion
Biafra or Presidency: One of the geopolitical zones in Nigeria that has complained about marginalisation is the southeastern part of the country.
It appears that the zone is now divided between Biafra and Igbo presidency in 2023.
There are people who believe that Biafra restoration is what is needed to gain prosperity for the people of southeast.
Recall that Nnamdi Kanu, who is the leader of the Indigenous People of Biafra IPOB has consistently say that it is either Biafra or nothing.
There are also politicians on the other hand who believe that Biafra agitations must stop so that the Igbo Presidency comes 2023 will be a reality. To them it is easier to get the presidency than to keep demanding for Biafra which is not feasible.
The people of the region are now divided between the two ideas. Some are saying that what they want is Biafra restoration while others especially the politicians, ohanaeze and some elders are Clamouring for Igbo Presidency which they believed that it's their turn to rule Nigeria.
The challenge now is that who will unite the two ideas so as to arrived at a United vision?
Will Southeast get it right this time around and for the first time, emerge as president of Nigeria?
Some politicians like Orji Uzor Kalu has been speaking out on what he will do for the country if allowed to serve as president of Nigeria in 2023.
Breaking: "Ejemma" Will Be The Name Of Biafra Currency When Restored – Nnamdi Kanu
Nnamdi Kanu during his broadcast this morning made it clear that when Biafra is being restored, the name of the currency that we will be used will be called "Ejemma" And immediately he said this, there was a lot of questions going round on social media.
People were asking what this Ejemma which will be the Biafra currency means. They really wants to know if this currency has more weight and value more than Dollar, pound and other currencies including the Naira.
As it stands,they are still waiting for more explanations about this currency. And we believe that mazi Nnamdi Kanu will later explain deeply what this money which is going to be the Biafra currency is all about .
Be patient as more details is coming.
Biafra: "No going Back No Matter How Hard The Saboteurs May Try" – IPOB Market Zone 1, Obigbo LGA 3 Declares
Market Zone 1 Family in Obigbo Local Government Area 3 of the Indigenous People of Biafra (IPOB), Igweocha, Biafraland, has unequivocally affirmed that there is absolutely no going back in their efforts to restore Biafra. This declaration was made during the visit of the LGA Executives to the zone on Sunday 23rd August, 2020.
The family members expressed great hope that Biafra was much closer than imagined, adding that her restoration as a sovereign nation can never be substituted even as the Nigerian state has turned Biafraland as it's hunting/killing field.
In his address, the Obigbo Area 3 Coordinator, Mazi Eze Ndu, highlighted the fact that IPOB is a moving train and that any Biafran that has not yet embarked, has no other time for enlistment other than now. He further stated that Nigeria is an irredeemably failed state, with a restored Biafra as the only solution.
In her speech, the Zonal Women Coordinator, Mrs. Ezinne Chikezie Magboh affirmed that the fight for Biafra remains one for survival and should not be an avenue for intimidation. "We are women who are ready to die for Biafra", she stated. The women leader, Mrs. Ezinne Cletus Nkechi on her part, clearly expressed her displeasure with the prevalent unbearable suffering of the Biafran people, maintaining that it was not an experience bargained for and so, must never ever be tolerated henceforth.
The gathering was further greeted with a dedication ceremony of twin babies the Biafran family was additionally blessed with. The entire event had colorful, peaceful and calm atmosphere with the Biafran, Israeli and United States flags flying above with adorable signature.
The meeting successfully came to a close amidst joy of fulfillment, to God's glory.
— Godswill Leeleebari Gabriel
Reporting for Family Writers Press International.
Igweochacable is all about breaking news, entertainments, Biafra/ IPOB news update , gist, music, videos and lots more from across the globe .
Reach us via Email: Igweochacablenetwork@gmail.com
Facebook: Igweocha Cable
Twitter: @IgweochaN