IPOB Petitions CJN For Declaring The Group "Terrorist Group"
Leader of the Indigenous People of Biafra (IPOB) Nnamdi Kanu has petitioned the President of the court of appeal, for failing to hear the appeal against the group declared as a terrorist group.
Kanu, through the group's media and publicity secretary, Emma Powerful wrote to the chairman, National Judicial Commission (NJC) Tanko Mohammed intimating him of their feeling on the delay in responding to the matter it has brought before the appeal court.
According to Kanu ", On September 20, 2017, Justice Abdu Kafarati of the Federal High Court, Abuja issued an Ex Parte Order proscribing the IPOB and declaring it a 'terrorist organization'.
"The Order was issued pursuant to an ex parte application brought by the Attorney-General of Nigeria. Subsequently, IPOB's application to vacate the Order was denied, thus necessitating an Appeal to the Court of Appeal in March 2018.
" Without prejudice to the pending Appeal, it is pertinent to state that IPOB has been existence for more than 6 years as it became legally registered in the United Kingdom on July 22, 2014 as an organization geared to the peaceful pursuit of the group or solidarity rights of the peoples of the defunct Republic of Biafra to self-determination.
Kanu while reminding the CJN that IPOB has maintained it's non violence attitude all this years added "You may also be aware that IPOB has similar status and recognition in the USA, Germany, Canada, Italy, Sweden, Switzerland, South Africa, Japan and 30 other civilised countries around the world. It has has never for once engaged in any act of violence or otherwise threatened any act of violence.
However, Kanu said despite its mode of operation unlike other groups was likened to a terrorist group by the army and followed up by the court.
He said "It is curious that a few days later, the Federal Government followed on the heels of the Nigerian Army and declared IPOB a terrorist group.
"This order contravened a previous and still subsisting final order virtually declaring that IPOB is not a terrorist organization, that it is not an unlawful society, and that its members have not committed any act of terrorism within the meaning of Nigeria's Terrorism Prevention Act.
Consequently, Kanu reveal that his members have been subjectes to all forms of humiliation and embarrassment by the federal government's action.
"This action has criminalized (within Nigeria) millions of IPOB members worldwide and rendered them subject to interdiction and confiscation of their monies, bank accounts, and other properties; and otherwise stigmatized them as terrorists subject to arrests, detentions, prosecutions, and even extrajudicial killings.
"Beyond the inherent unfairness, the declaration of IPOB as a terrorist group by Nigeria is discriminatory because there are other non-Biafran organizations in Nigeria, some confirmedly violent, some not, but all geared to fighting or agitating for one right or the other for members of their closet group, but which have not been declared terrorist organization(s).
Kanu however maintained that "it is against the foregoing backdrop that IPOB preferred the said Appeal, with the high hopes that such is the first opportunity for the group to get a fair hearing on the matter.
" Yet, over the two years later and counting, the Court of Appeal has not heard the appeal and there is no reason to believe that Appeal will be heard soon. It is shocking that a matter as grave as labelling an innocent movement a terrorist group would take this long without a formal hearing.
"Wherefore, we request the Chief Justice – pursuant to his powers as the Chairman of the National Judicial Council – to direct that the Appeal be heard without further delay. Kanu stated
IPOB Press Release On Obigbo Massacre
We the global family of the Indigenous People of Biafra (IPOB) ably led by our great leader Mazi Nnamdi Kanu are watching with keen interest, the murder of our people in cold blood in every part of Nigeria particularly in Obigbo, Rivers State, by Gov. Nyesom Wike and the Nigeria security agents who derive joy in slaughtering innocent people. Wike's desperation to be Vice President in 2023 based on phantom promise by the Fulani is driving him into political malady.
We want to remind anybody who supports or partners Wike in murdering our people in Obigbo to brace up for the consequences of their atrocities because IPOB must avenge for the death of those innocent youths, women and even children murdered in cold blood.
Anybody who is still in doubt of the status/ boundary identity of Igweocha (Rivers State), should read the Supreme Court judgment on the case between Ikwerre and Okirika in 1958 when Wike was not yet born. Wike's utterances on this simply portrays his ignorance. It shows that his father and uncles did not teach him history of Rivers State. Even Elechi Amadi affirmed that Rivers was part of Igbo land when he was confronted with the WACA judgment by Ohaneze Ndigbo, and that incontrovertible truth subsists till tomorrow.
Wike, you have started what you cannot finish because IPOB is coming and there is nothing you can do to escape judgement. Your attempt to decimate youths in Obigbo under the guise of decimating IPOB members is only efforts in futility because IPOB is so formidable that no Pharaoh can wipe it off let alone a little fly like you.
Everybody knows that Wike is working for Northern political elite who has asked him to decimate IPOB as a condition to be endorsed for the Vice Presidental slot in 2023 otherwise, they will give it to one of the South East Governors strongly angling for the position.
IPOB remains committed to restoring Biafra sovereignty and independence irrespective of the mounting opposition by the enemies. Wike should also be reminded that the South East and South South people are united in this cause, and that no amount of sabotage and treachery by him and his likes can break the bond of unity among the people.
COMRADE EMMA POWERFUL MEDIA AND PUBLICITY SECRETARY FOR IPOB
Following the killings, destruction and burning of private properties occassioned by the brutal state sanctioned murder of peaceful protesters at Lekki Toll Gate, brave youths across Biafraland would come out to commence the process of cleaning up and securing their towns and cities from hoodlums and criminal elements. This will afford young people in places like Benin, Enugu, Aba, Abakaliki, Umuahia, Nnewi, Uyo, Calabar, Onitsha & Igweocha the long awaited opportunity to tidy up and clear the numerous mountains of rubbish in these cities which has become not only an eyesore but also a health hazard. Measures are also being put in place to protect the lives and properties of innocent citizens from being attacked by rented hoodlums and political thugs. However, where necessary, assets acquired with looted public funds by corrupt politicians will remain a legitimate target.
It is important to note that anybody found attacking or engaging in arson or wanton destruction of private property will be dealt with on the spot. Peaceful protests will commence after the clean-up but will only be confined to designated locations, there will be no procession or street march. Marching on the streets will not be tolerated as not to give room to mischief makers to breach public peace. We are hereby issuing a warning that any hoodlum or rented thug found at the venue of any protest will be mercilessly dealt with by the people. We urge them to steer clear or better join us in the clean-up and peaceful gathering afterwards.
Anybody found wandering near a bank or loitering with intent will be moved on. People will not be allowed to congregate near a bank or financial institution. No act capable of breaching the peace will be tolerated from Monday the 26th of October 2020 onwards. Protests and gatherings will be held but it must be peaceful and orderly. No criminality of any form will be condoned, either from hoodlums, hired thugs, the police or the army. Everybody must be well behaved.
It is our hope that protests across Biafraland and Nigeria must continue until all demands made by the leaders of #EndSars movement met in quick time. We urge all youths who have been intimidated into submission by security agencies, especially in Abuja, to return to the streets from tomorrow, October 26. We warn every thug belonging to criminal politicians and DSS hoodlums to steer clear of protest venues or there will be a repeat of last week's mayhem.
COMRADE EMMA POWERFUL MEDIA AND PUBLICITY SECRETARY FOR IPOB
We Will Launch Radio Biafra In Daura For Daring Us – IPOB Tells Buhari
Home/News/IPOB : We Will Launch Radio Biafra In Daura for Daring us  – IPOB Tells Buhari
Barely 24 hours the federal government approved N654 million bill for deployment of hybrid spectrum to monitor illegal frequencies in the southern part of the country most especially in the southeast . The government led by President Buhari on Thursday 8th October 2020 approved the bill.
In response to this, the indigenous people of Biafra (IPOB) threatened to launch the biafran radio frequency in Daura hometown of the president.
Detail reads;
IPOB to Buhari: "For Daring us we will launch radio Biafra in Daura."
The leader of the IPOB group Nnamdi Kanu wrote;
"This wicked but futile decision was taken during their federal executive meeting on Wednesday 7th October." That the president of Nigeria Mohammed Buhari mapped out such whooping amount of money for this unreasonable project despite its precarious economic state confirms their jittery over the name IPOB. I thought they called us miscreants why are they losing sleep over miscreants? "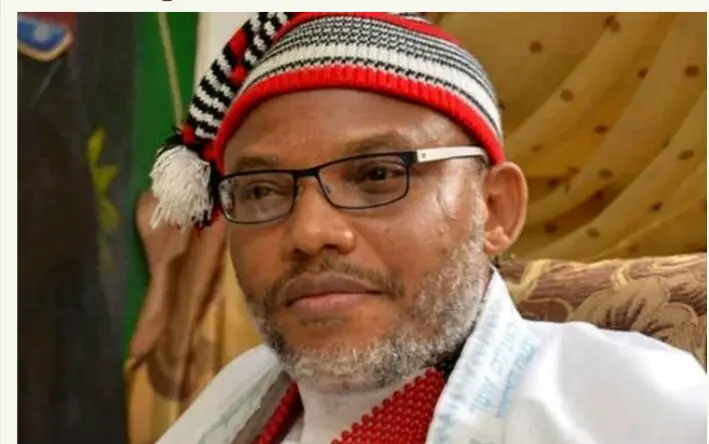 Igweochacable is all about breaking news, entertainments, Biafra/ IPOB news update , gist, music, videos and lots more from across the globe .
Reach us via Email: Igweochacablenetwork@gmail.com
Facebook: Igweocha Cable
Twitter: @IgweochaN