2023 : Orji Uzor Kalu Set To Become The Second Igbo President
Recent events seem to suggest that former governor of Abia State, Senator Orji Uzor Kalu may replace President Muhammadu Buhari in 2023, if the clamour for Igbo presidency becomes successful.
A few days ago, fiery Catholic Priest Ejike Mbaka, made a cryptic proclamation about Orji Uzor Kalu, hinting that Presidents have emerged from prison.
In Nigeria for instance, President Olusegun Obasanjo emerged from detention, to become President of Nigeria. Even President Muhammadu Buhari had a stint in detention, when he was overthrown by General Ibrahim Badamusi Babangida.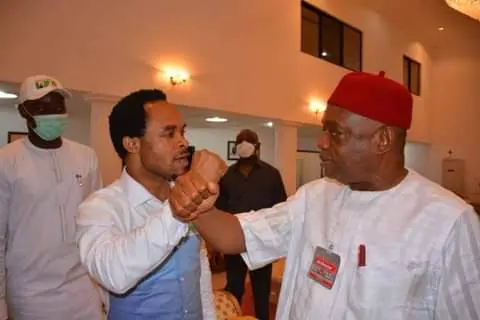 The visit to Orji Uzor Kalu, yesterday by popular controversial priest Odumeje seems to hint there might be a divine proclamation on Orji Uzor Kalu taking over from Buhari in 2023.
Looking at it from another point of view, Kalu is one Igbo man, the North will find very easy to trust and work with. Kalu was even turbaned Dan Baiwan Hausa, one of their highest titles in the North by the Emir of Buhari's hometown of Daura.
The Igbos have only had one President in the person of Nnamdi Azikiwe, as president, while General Aguiyi Ironsi was the only Igbo military Head of State.
Orji Uzor Kalu might be set to break that jinx, even though Owelle Rochas Okorocha, another friend of the North, have had his eyes set on presidency for a long time.
As IPOB Keep Agitating For Biafra, Can Igbos Produce President Of Nigeria In 2023?
The subject of who becomes the President of the Federal Republic of Nigeria and the commander in-chief of the Armed forces in 2023 has continued to be the focus of many despite the tenure of the incumbent still remaining three years.
Since the independence of the country from Britain in 1960, the people of the Southeast have only ever occupied the highest political office when the Late Gen Aguiyi Johnson Ironsi toppled the administration of Dr Nnamdi Azikiwe and Alhaji Tafawa Balewa (President and Prime Minister respectively). That was in far back 1966. A child born that time should be around 54years now.
Agreed that Dr Alex Ekweme served the country as vice President during the administration of Alhaji Shehu Shagari between 1979 and 1983, December 31. But then you'd also agree that, the position of a vice is more or less a spare tyre. Even though he may have certain privileges, he does not call the shots. He can only do that which his immediate boss allows him to do.
Since Nigeria returned to democratic administration in 1999, almost all the major ethnic stock in the country's conflagration has had the chance to occupy the highest position except of course, the Igbos. This is why the call for the zoning of the next president to come from that part of the country seem louder than usual.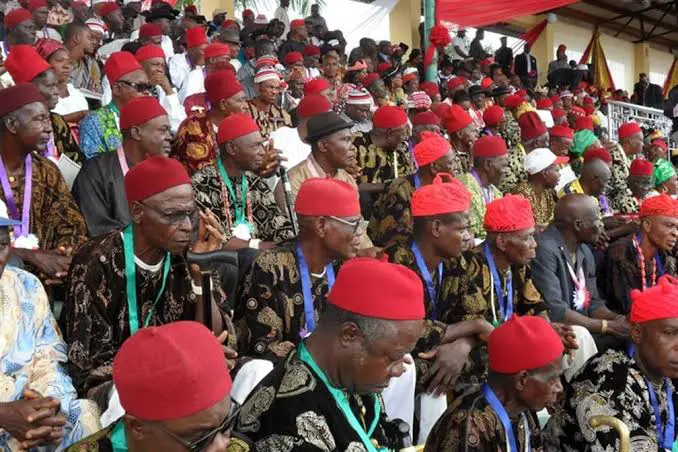 The Yorubas have had their opportunity when Chief Olusengu Obasanjo held sway as president for eight uninterrupted years. He handed over to the Late Musa Yar'Adua from the North who unfortunately could not see out his tenure. The Niger Delta thus benefited by producing a president who spent almost six (6) years in office.
Today, the North as represented by Maj Gen Mohammadu Buhari (rtd) is president. He's stayed in office for over five years. Hs tenure will elapse in 2023.
Expectedly, many groups representing several interest have started giving reasons why some persons from their regions should occupy the office of the president. The North still feel they should retain the position despite occupying the position much more than any other group in the country since independence. I think this call is uncharitable and should be rebuffed by every patriotic Nigerian.
The Southwest aside the North have also held the position more than the Igbos have ever had and so the clamour for a Tinubu/Osinbajo or anyone from there to become president is only intended to promote selfishness and greed.
The Igbos this time around should be supported by everyone to emerge. All the Political parties should listen to the aspirations of aspirants from that part of the country. Select a credible person and give their tickets them.
The question now will be, given the continuous agitation for a Sovereign State of Biafra by the youths in the East, is allowing someone from there to become president the right call? Will such a one from there not sign off any call for independence immediately he assumes the position? I am certain everyone agrees that these questions are not superfluous given the rave and wave of the recent agitation as led by Mazi Nnamdi Kanu.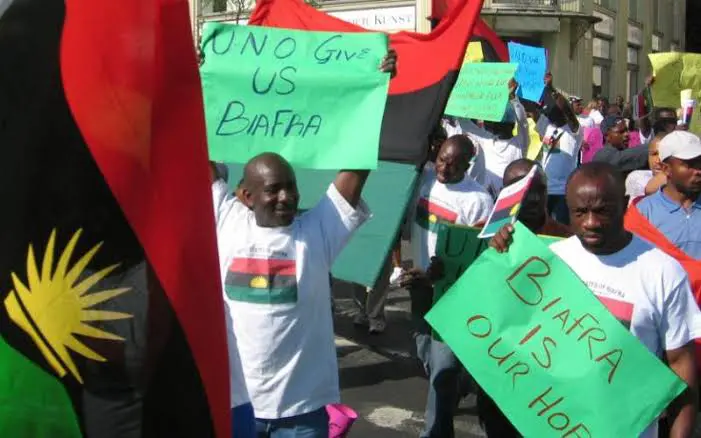 I think though that the call for Biafra is loud now because the Igbos feel marginalised but should one of them emerge president, that feeling of marginalization will just pass and they will patriotically unite with other groups to push for a stronger and united Nigeria.
2023 : Nigeria Will Witness A Huge Turn Around If An Igbo Man Emerges A President – Nnia Nwodo
The President of Ohanaeze Ndigbo, the apex Igbo socio-cultural group, Nnia Nwodo, says Nigeria will witness a turnaround in future if an Igbo man emerges President of the country in 2023.
Nwodo said this in a congratulatory message he sent to Nigerian born Kelechi Madu, the newly appointed Minister of Justice and Solicitor General in Alberta, Canada.
In the congratulatory message signed by Emeka Attamah, his media adviser, Nwodo said Madu's achievement in Canada shows that if an Igbo man is elected as President in 2023, Nigeria will be transformed. He appealed to the Federal Government to stop marginalizing and victimizing the Igbos in the country so that their latent creative potentials could be harnessed for the good of all Nigerians.
Ohanaeze Ndigbo is highly honoured by the exploits of Kaycee Madu in far away Canada as an Igbo son. Mr Madu had contested and won a seat into the Legislative Assembly of Alberta, representing the electoral district of Edmonton-South West from where he was appointed and sworn in as Minister of Justice and Solicitor General by the Premier of Alberta, Jason Kenney, on April 30, 2020.

On behalf of Ohanaeze Ndigbo Worldwide, I commend the sterling qualities of Mr Kaycee Madu, as well as other Igbo sons and daughters who have excelled so much outside the country, such as the recently appointed first black Vice Chancellor of Leeds Trinity University in the UK, Prof Charles Egbu, and many others.

The exploits of Igbo sons and daughters both within and outside the country are indices of the cerebral capability and ingenuity of the people which Nigeria could exploit to advance its development.

The Federal Government should stop marginalising and victimising the Igbo in the country so that the latent creative potentials could be harnessed for the good of all.

Nigeria would witness a turn around in her fortunes if a president of Igbo extraction was allowed to emerge in 2023. he said.
Enugu Massacre: Nnamdi Kanu Plotting To Frustrate 2023 Igbo Presidency Because The Incident – Uwazuruike
According to Chief Ralph Uwazurike, who is the leader of the Movement for the Actualization of Sovereign State of Biafra (MASSOB) on Sunday, said, Nnamdi Kanu is plotting to used the Enugu incident to frustrate Igbo Presidency comes 2023 over the clash with his group, the Indigenous People of Biafra, IPOB, to destabilize Igbo ambition to become the next president.
Nnamdi Kanu plots to used Enugu incident to frustrate Igbo presidency- MASSOB
"What happened in Enugu on Sunday between IPOB and combined security forces of Nigeria was not a clash or a confrontation but a systematic plot, an act of terrorism, hatched and orchestrated by the presidency to inflict fear that will demoralize the surging rise, clamor, and support for Biafra and Nigerian president of Igbo extraction," the group asserted.
Uche said, "The loose venom of pathological hatred by this present administration against Ndigbo and Christians in general on Sunday in Enugu further proved our earlier revelation of conspiracy and plot to push back the political emancipation of Ndigbo in Nigeria.
"It is a well-known fact that all pro-Biafra agitators including MASSOB, IPOB, EPC, BNYL, BIM, MOBIN, etc. are non-violent and do not use arms. It is also on record that none of these groups have indulged in any act of terrorism, violence, or killings.
"Why should the Nigerian police embark on a deceitful mission of blackmailing the peaceful and non-violent members of IPOB that they were engaged in firing spree with the agents of DSS that led to the combined team of Nigeria armed security forces to heavily descend on them in a war-like a scenario during their meeting at Emene, Enugu on Sunday which resulted on the death of innocent and defenseless citizens of Biafra?
"What happened in Enugu on Sunday between IPOB and combined security forces of Nigeria were not a clash or a confrontation but a systematic plot, an act of terrorism, hatched and orchestrated by the presidency to inflict fear that will demoralize the surging rise, clamor, and support for Biafra and Nigerian president of Igbo extraction.
"They fronted the DSS to provoke members of IPOB to an assault but IPOB members refused to fall into their trap, but because it was a designed mission that must be accomplished, the DSS opened fire on defenseless citizens, the police, army and Air Force immediately joined them in the brutality of IPOB members and terrorizing the inhabitants of Enugu City.
Igweochacable is all about breaking news, entertainments, Biafra/ IPOB news update , gist, music, videos and lots more from across the globe .
Reach us via Email: Igweochacablenetwork@gmail.com
Facebook: Igweocha Cable
Twitter: @IgweochaN