Biafra: Nnamdi Kanu Unveils New Biafran Flag With Jewish Symbol
The leader of the Indigenous People of Biafra, Mazi Nnamdi Kanu, on Tuesday, August 18, unveiled a Biafran flag
which was inscribed with a Jewish star.
Nnamdi Kanu posted the picture on Twitter, to get reactions from Biafrans, said that the new design is with an acknowledgement of ERI heritage. It is "beautiful and thought provoking. What do you think?"
Mixed reactions have trailed the new Flag, with most twitter users kicking against the Jewish inscription, while others have approved it.
Some others feel indifferent about the new Flag and insists that the IPOB leader focus on getting the country before the flag.
See reactions;
"@MaziNnamdiKanu Rejected. We are not Jews. No matter how hard you push it. And please research the true symbolism of the six point star. David never had a star. It is the biggest symbolism in satanism and demonic worship." – @africatt
"@MaziNnamdiKanu The Judaism sign on it isn't cool. Unless all other possibly major religions of the IPOB is included on the flag. We must uphold the freedom of association & beliefs." – @OkSydney
"@MaziNnamdiKanu That inscription is not accepted because it is not Biafra in nature . We are not loyal to any religion or nation but to GOD ALMIGHTY. I say no and am sure millions of Biafrans will say so drop it." – @Igbo_Speaker
"Bro this is star of David, this is not about religion but it reminds you where we came from NRI . Let's stop this religious bickering it has divided us enough." – @EbereAkunyio
"@MaziNnamdiKanu is been a dictator, he's making it a Jewish state, why must #IPOB(a movement) choose for all of us e.t.c. this may sprout a major argument. As we #IPOB has publicly affirmed that the new #Biafra shall be a true democratic state, governing as we're." – @PeterdamianAny2
"Not everyone is not against it, and must not be against it, people have opinions and contributions to make, for me that's not necessarily and not what we want now, the main color is high and the spirit is strong so let's continue with it." – @Chigoziefortun6
See more reactions;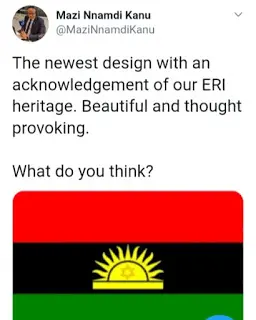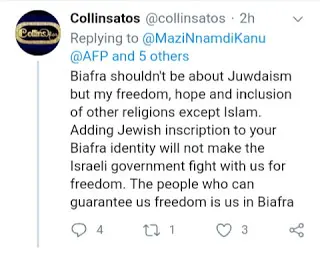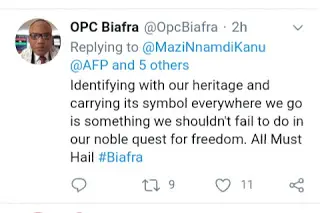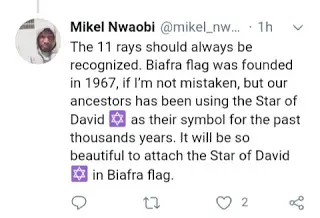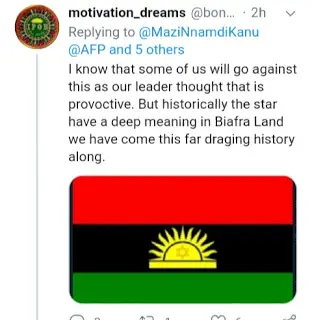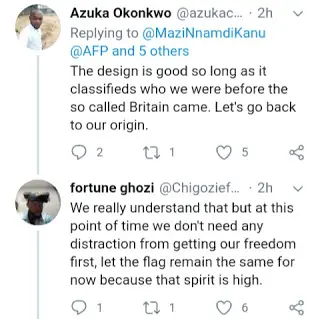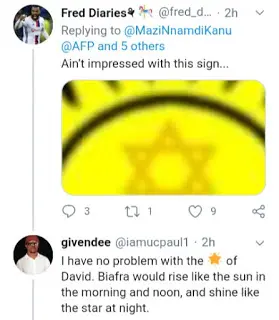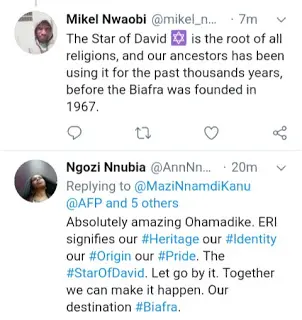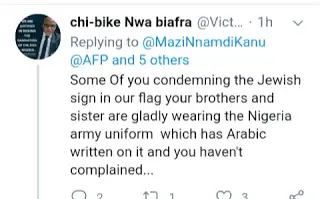 Breaking News : Nnamdi Kanu Locates Aburi Accord Original Tape
WORLD EXCLUSIVE:
The divinely ordained noble family of the Indigenous People of Biafra (IPOB) is now in possession of the original Aburi Accord tapes.
Yakubu Gowon, Fulani Oligarchy and the British Government are all in touble. Our eternal leader Dim Chukwuemeka Odimegwu Ojukwu and Biafra is about to be vindicated before the world. All the lies concocted against Ojukwu and Biafra by the BBC and world media is about to be blown out of the water.
A very massive earthquake is coming. Britain, Gowon, Nigeria and the media is about to receive the greatest shock of their lives.
Nigeria is finished!
#wemove ✊❤
Same Old Deception, Same Old Lies, SARS Is SWAT, SWAT IS SARS, End Nigeria Now! – Nnamdi Kanu Reacts To SWAT Creation
The Leader of the Indigenous People of Biafra, IPOB, Nnamdi Kanu has said that there is no difference between the disbanded Special Anti-Robbery Squad, SARS and the newly established Special Weapons and Tactics, SWAT.
Kanu also stated that SWAT has was not just created but has been in existence since 2018. He disclosed this in a post on Wednesday, October 13 via his official Facebook page.
He wrote,
"#SARS is #SWAT. Same old lies; same old deceit; same old Fulani Cabal
"SWAT has been in existence since 2018. It was announced by the same IGP Adamu.
"Thankfully this generation is now sufficiently enlightened to understand their lies.
"Fulani MUST stop this Taqiyya. Government of liars by liars and for liars is reprehensible. #sarsisswat
"Only by #EndNigeriaNow will all these high-powered Nigerian government deception stop."
Source: Ndigbo link.
"I Salute Your Courage" – IPOB Leader, Nnamdi Kanu Tells #ENDSARS Protesters
The leader of the Indigenous People of Biafra, IPOB, and Director of Radio Biafra,  Mazi Nnamdi Kanu, on Tuesday, lent his voice to the nationwide agitation for ending Special Anti-Robbery Squad, SARS, a unit of the Nigerian Police Force, advising the agitators to resist being compromised.
Mazi Kanu said this in a statement he entitled "EndSARS campaign is heading in the right direction. Only three ingredients are needed now", made available through IPOB's Media and Publicity Secretary, Emma Powerful.
He alleged that the authorities that want SARS to stay may try to bribe and lobby for it to continue, but urged the agitators and their leadership not to compromise in the agitations to end the evil wind that found its way into the Nigeria Police in the name of checking armed robbery.
Mazi Kanu reminded them that consistency is vital at the present stage of the ongoing protests, agitation and campaign to end SARS, just as he urged them not to allow mental fatigue to creep in among them. The IPOB leader said:
"The leadership of various groups on the ground in the agitation making it a must to resist every attempt by ruling cabal to buy them over. "They will throw money at the issue in the hope of buying people off the streets, but they must be resisted. "Consistency is vital at this stage. Don't allow mental fatigue to creep in.
Momentum has a natural multiplier effect. With the momentum the movement becomes unstoppable. "These three key ingredients will deliver victory. After this, things will no longer be the same in Nigeria. I salute your courage. History beckons," Nnamdi Kanu added
Igweochacable is all about breaking news, entertainments, Biafra/ IPOB news update , gist, music, videos and lots more from across the globe .
Reach us via Email: Igweochacablenetwork@gmail.com
Facebook: Igweocha Cable
Twitter: @IgweochaN