Imo State Not Part Of Biafra, Therefore I Will Keep On Arresting More IPOB Members In Imo – Hope Uzodinma Vows –
The Governor of Imo state, Hope Uzodinma has stated that he will still arrest more Indigenous People of Biafra, IPOB member in his State.
Uzodinma finally reacted to the Arrest on IPOB members in the state.
Speaking to news men in owerri, Uzodinma claimed that they disobeyed his orders.
According to him;
I gave an order as the Governor that Imo state is not part of Biafra land.
"I also gave orders that IPOB members must never come near my state but they have the guts to Protest in my village.
These fools have the guts to call me supreme Court Governor
"Because of this, any IPOB member I see in my state must be arrested and will stay 6 months in prison before I free them.
Imo is my state and as the executive Governor, I have every right to decide who comes and goes". He said.
Source: Eco City Reporters
Will You Still Call Hope Uzodinma A "Supreme court Governor" Since Court Has Dismissed A Suit To Sack Him?
The Executive Governor of Imo state, Sen Hope Uzodimma has once again, shamed his detractors with his current win at the federal high court in Abuja yesterday.
A Federal High Court in Abuja dismissed a suit that sought to sack Uzodimma based on the manner he emerged as governor of Imo state.
The plaintiff cited sections 177(c) of the Constitution asking the courts to interpret the section in relation to the circumstances relating to Uzodinma's emergence as Imo governor.
Section 177 of the constitution lists the criteria for standing elections as a governor in Nigeria and sub section C explains the role of a political party in presenting a candidate for elections.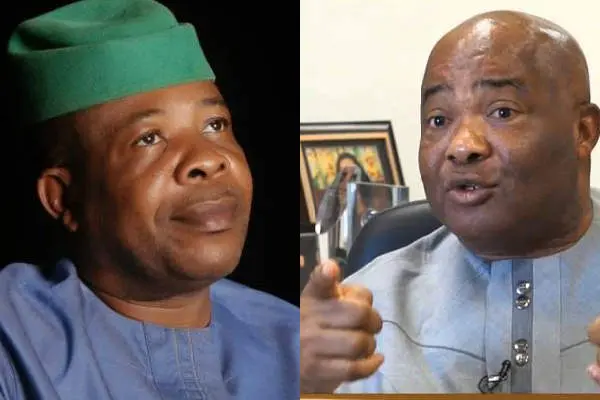 The suit in question that asked the court to stop Uzodinma from acting as governor was filed by Kingdom Nnamdi Okere, the candidate of the Reform and Advancement Party (RAP) in the last governorship election in Imo State.
The plaintiff, through his counsel Ifeoma Ogufo had, however, applied for a withdrawal of the suit.
The Presiding Judge, Justice Okon Abang however, had to dismiss the suit because of this in a ruling he gave on Tuesday.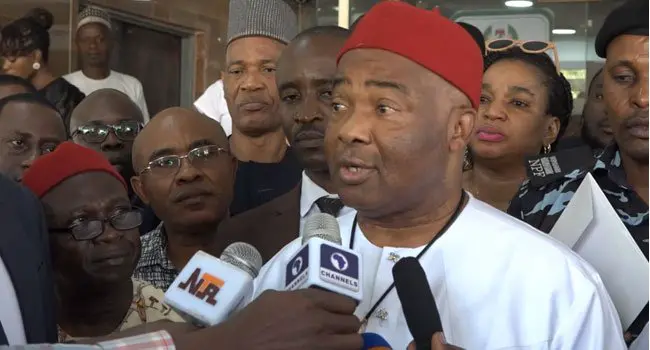 For wasting the court's time, the presiding judge also awarded cost against the plaintiff at N500, 000 each in favor of 1st, 2nd, and 7th defendants represented by Hope Uzodimma, Governor of Imo State and INEC respectively.
Recall after the Imo state governorship elections that held In March 2019, INEC had announced the governorship election results as follows: Emeka Ihedioha (PDP) had won with 273,404 votes, Uche Nwosu (AA) came second with 190,364 votes, Ifeanyi Ararume (APGA) came third with 114,676 votes, and Uzodinma (APC) came fourth with 96,458 votes.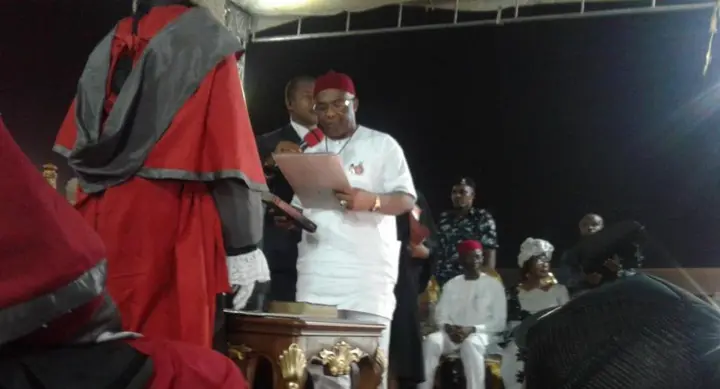 On 14 January 2020, after challenging the victory of Emeka Ihedioha, the Supreme Court declared Uzodinma, the duly elected Governor of Imo State.
Not understanding the manner of the ruling and how Uzodimma who came fourth had to be sworn in ahead of the 2nd and third candidates, some Imo citizens now bestowed the tag of "Supreme court" governor on him.
This win will, however, give him the needed respect from his detractors who felt he came in with the help of the courts.
Why Those Calling Me "Supreme Court Governor" Are Fools – Hope Uzodinma Blows Hot
Governor Hope Uzodinma of Imo State on Saturday took a swipe at the people calling him Supreme Court Governor, describing them as ignorant people.
The governor who described their claim as "height of ignorance" stated this while Speaking when he featured during a Channels TV programme, saying for people to describe him as Supreme Court governor shows that they lack understanding of how the court works.
According to Uzodinma, "In January, the apex court declared Uzodinma as governor after ruling that Emeka Ihedioha, who was announced winner of the state governorship poll, was not duly elected."
"Some, however, faulted the court's decision, and started calling Uzodinma "supreme court governor".
During the TV programme on Friday night, the anchor asked him if he was unsettled by the tag, to which he responded that his emergence followed due process.
He said he was not the first person to have been declared winner of an election by the court, wondering why his case should be different.
"It is the height of ignorance because I don't know what they mean by that," the governor said when asked.
There is a reason for the Supreme Court. In the doctrine and principle of democracy, the law expected that there would be grievances and malpractices in the electoral process.
"When this happens, the only legitimate right you have is to seek redress at the court. And of course, the court determines.
"Remember that this is not the first time, so many elections had held where the candidates went to court and they got justice. So, why will mine be different?"
He said the Independently National Electoral Commission (INEC) failed to count for the votes of some persons during the election.
"I went to the Supreme Court and INEC was unable to explain why they did not enter the result. It was a simple judgment; the Supreme Court said INEC was wrong," Uzodinma added.
The governor recently petitioned the National Judicial Council (NJC) and Abubakar Malami, attorney-general of the federation, over the tag.
Fear Grips Hope Uzodinma As Federal High Court Sitting Draws Closer On The 29th Of Sept, 2020
Governnor Hope Uzodimma of Imo state is the candidate of all Progressive Congress (APC), who took fourth position in the 2019 April Gubernatorial election which was held in imo state. But something surprising happened some months after, on January 2020, the People's Democratic Party's (PDP) candidate, Governor Emeka Ihedioha who was declared winner by Independent National Electoral Commission (INEC), was sacked from office by the Supreme Court sitting in Abuja.
Few months ago, The Reform and Advancement party (RAP) and it's Gubernatorial candidate, called Kingdom Okereke filed an Application challenging the Supreme Court's Judgement that brought the incumbent Governor of Imo state, Governnor Hope Uzodimma into power, from fourth position to first position.
According to The Reform and Advancement Party (RAP) and it's candidate, said APC never supported Hope Uzodimma as Uche Nwosu was the rightful candidate for All Progressive Congress, and not Hope Uzodimma who came from no where, they also alleged in the application filed that All Progressive Congress didn't do campaign for Hope Uzodimma Because they were not many of it's chieftains were not in support.
It may interest you to know that Uche Nwosu was formerly the Flag bearer of All Progressive Congress (APC), which was initiated by his Father in-law, former Governor of Imo State, Senator Rochas Anayo Okorocha, but because the former Chairman of APC, Adams Oshiomhole, who the then Governnor of imo state gave all his support and helped to become their Party's Chairman, thought would help him trigger his Son in-law succeeding him.
Meanwhile, many APC members opposed Rochas Okorocha's Son in-law, including Adams Oshiomole, the then National Chairman of the Party, so, Rochas Okorocha adviced his Son in-law, Uche Nwosu as he left All Progressive Congress and went to Action Alliance (AA), where he was also given a Governorship ticket.
Now, remember he was still APC candidate, and again was given another ticket from Action Alliance (AA). Then he was latter disqualified for possessing double tickets by the Federal High Court. This is actually where The Reform and Advancement Party (RAP) capitalized on and filed their application to federal High Court.
The case has been a Adjourned several times and the last time, it was adjourned till 29th September, 2020, and tension has risen again as many People's hope is high on the out come of the judgement come 29th of September between The Reform and Advancement Party (RAP) and Governor Hope Uzodimma of APC.
Igweochacable is all about breaking news, entertainments, Biafra/ IPOB news update , gist, music, videos and lots more from across the globe .
Reach us via Email: Igweochacablenetwork@gmail.com
Facebook: Igweocha Cable
Twitter: @IgweochaN