Osu (Outcast), Two Lovers Commit Suicide After Parents Turned Down Marriage Proposal In Anambra
Two Okija Anambra State lovers who are yet to be identified have allegedly taken their lives after drinking insecticide called Snipper, because their parents refused to give their consent for them to get married to each other due to the fact that one of them is Osu.
The Osu caste system, is an ancient practice in Igboland that discourages marriage and relationship with a group of people called Osu (outcast).
According to Igbo history, Osu which means outcast in Igbo language, are people who were dedicated to the deities of the ancient  Igboland. Their lineage and generations are considered as abominations and inferior beings and are usually separated from the Nwadiala or diala.
Source – Lailas News.
The Full Meaning Of The word "WIFE"
W – Wise in Communication
Industrious and Innocent in character
F – Forgiving in conflict
E – Excellent in counsel and comfort.
If as a wife, this acronym does not tally with your character, you can never win your spouse.
Let analyse the acronym, one by one.
1. W – Wise in communication
Many wives have wrecked their homes and marriages due to poor communicating skill. As a wife, you need wisdom to communicate certain issues and ideas to your spouse. A great communicating skill will help you have great access to your husband and home at large.
2. I – Industrious and Innocent in Character
Secondly, if you want to win your husband to yourself, you must be Industrious i.e hardworking. You may be hardworking in the circular aspect, but you also need to bring it to family and marriage aspect. Try as much as possible you can to put the house in order and your marriage will be like heaven here on earth.
Also, as a wife, you must try as much as possible to be innocent in character. This means that your spouse should not have reason to suspect you, neither should he think that you are always keeping a secret from him. You must be plain in dealing with him.
3. F – Forgiving in Conflict
In every relationship, conflict is always part of the journey and it has an antidote which is forgiveness.
As a wife, forgiveness means letting go the pains you received when being hurt. It also means surrendering your right to hurt you back if you hurt me. One may be tempted not to forgive considering the gravity of the offense, but if you let it grow into full hatred, you are gradually losing your emotions towards the relationship and if not careful the relationship may be dissolved.
4. E – Excellent in counsel and comfort.
Lastly, as a wife you must be able to give great counsel to your husband and not evil one just as Jezebel in the Bible. With these, your marriage will have a smooth ride.
See What A 16 – Year Old Girl Posted On facebook That Got People Talking, I think She Need Jesus
Facebook has been trending with a lot of posts and photos, making the social media platform a nice place for the teenagers and youths.
For about two days, a 16 years old girl by the name, Daberechi has been trending following the kind of posts she uploads on Facebook. In some of the posts she had uploaded, she told some people that she was 16 and was dating a 49-years old man.
The Igbo  girl, Daberechi has dropped another hit today, she does come up with controversial posts day to day or even in some couple of hours.
In the posts she uploaded today, she was referring to broke guys, she said that no matter how broke a guy is, he should afford to give his woman 50,000 naira weekly.
This young teenage girl would always post about love and relationship, a lot of people have been slamming the young girl, some day that she needed Jesus in her life.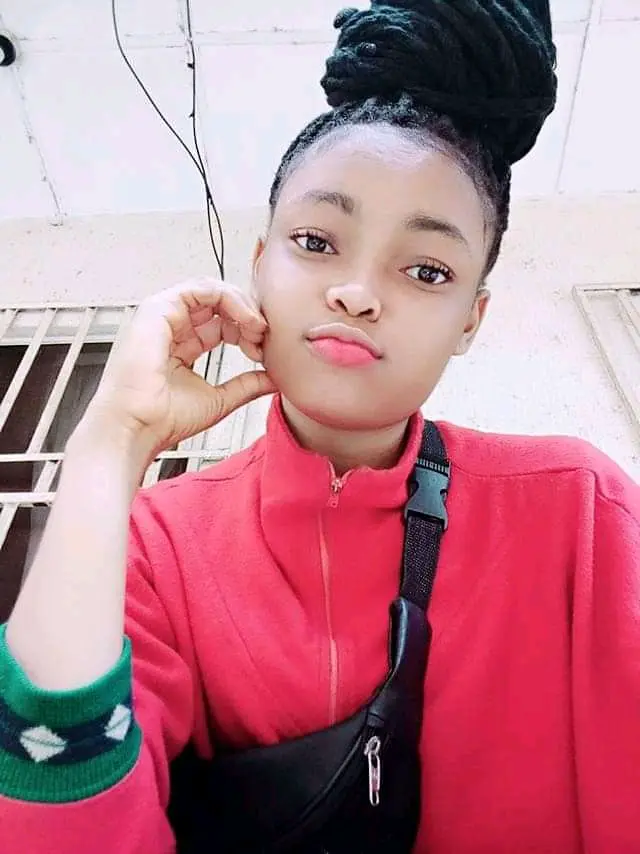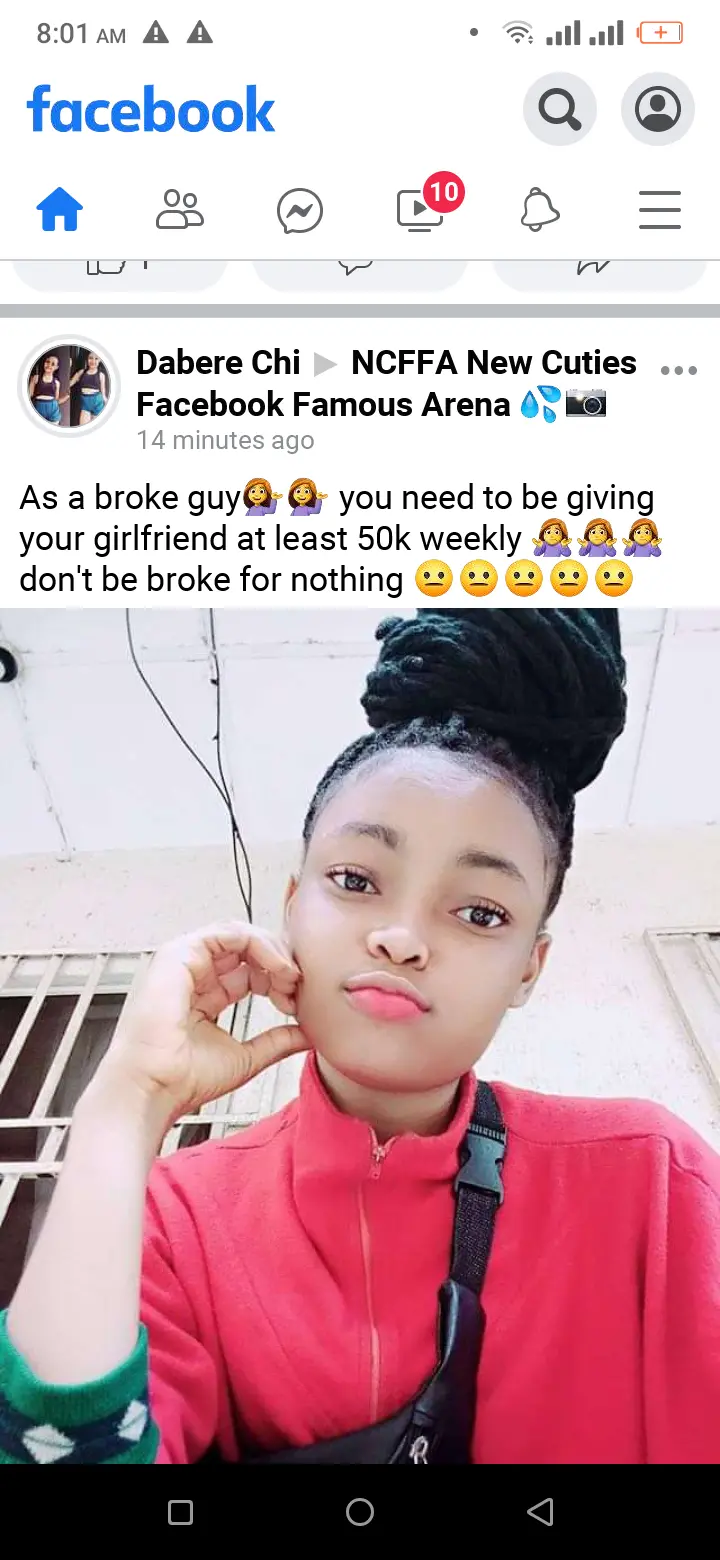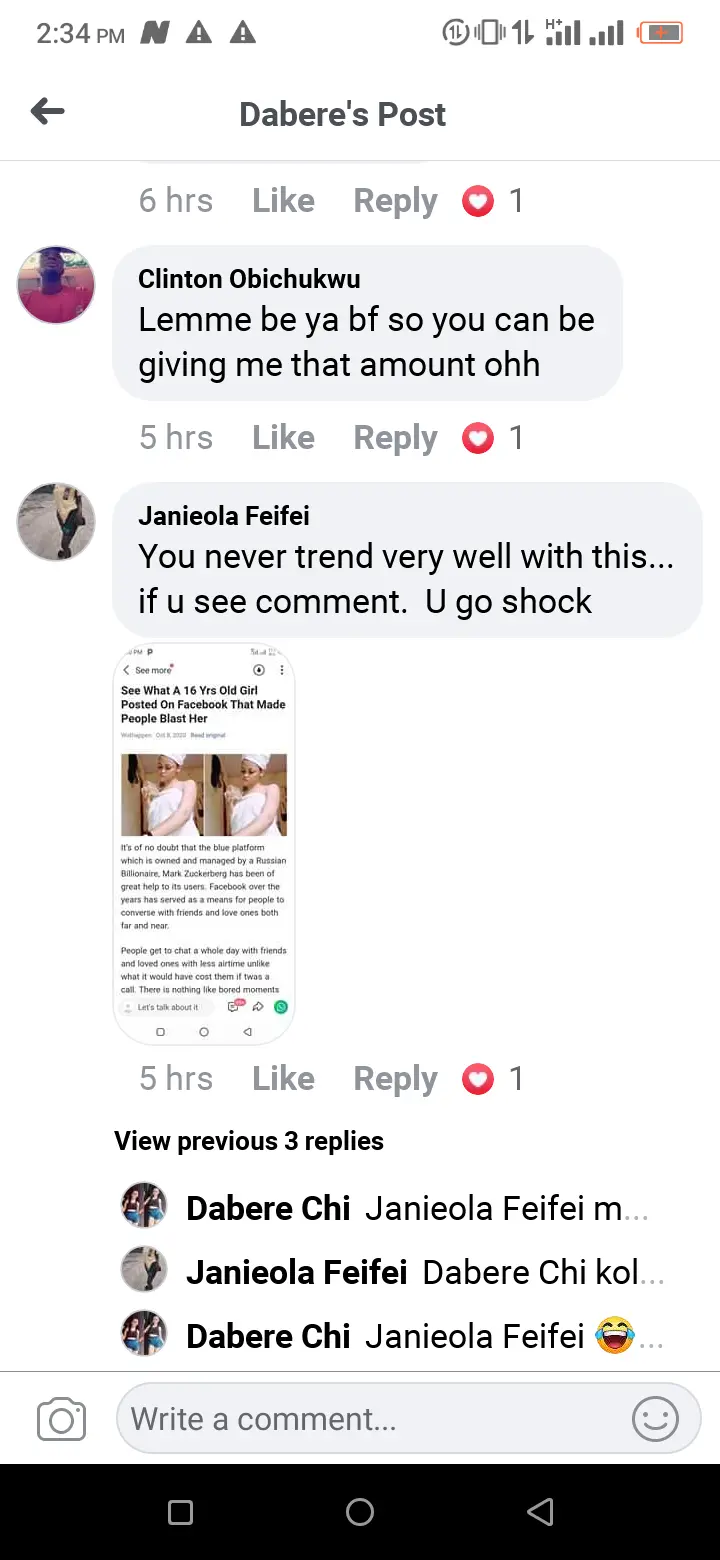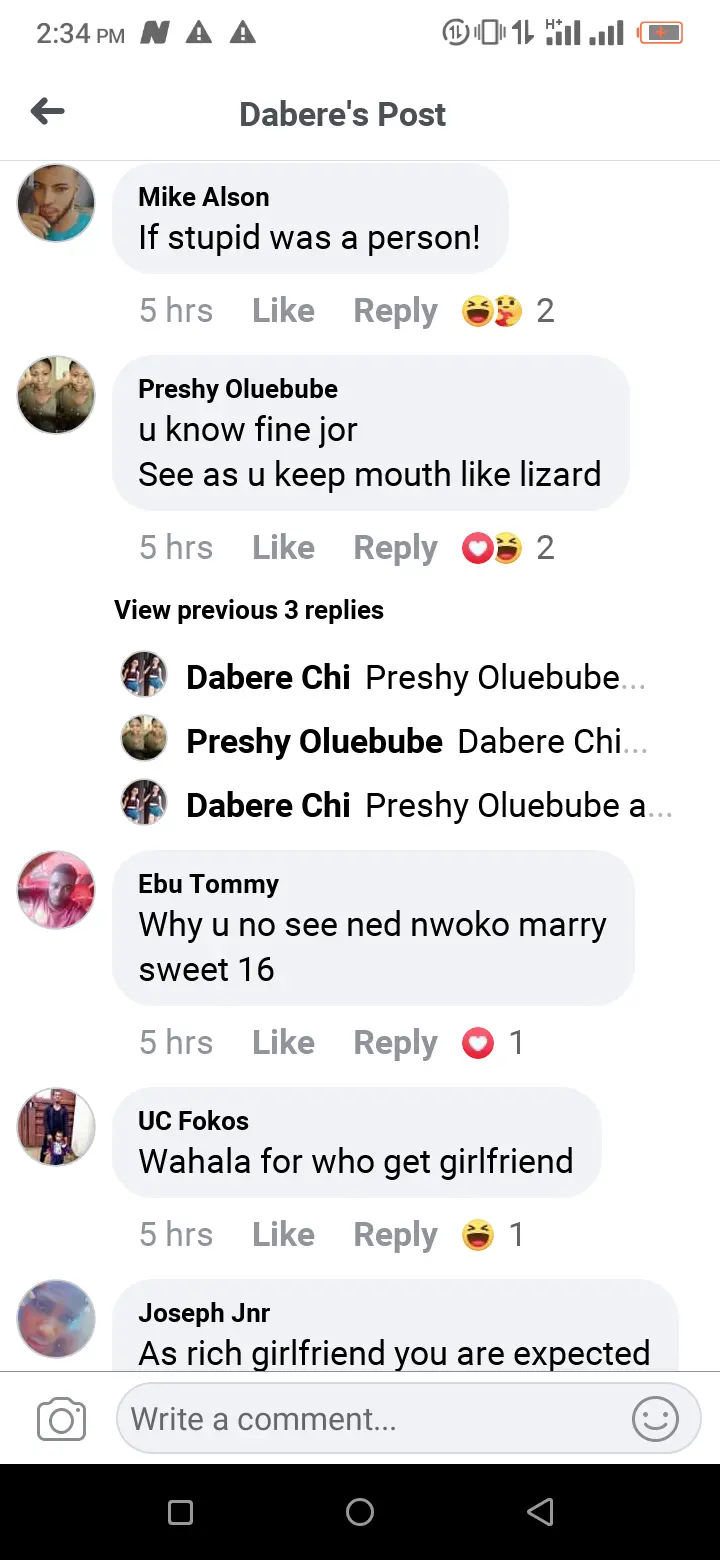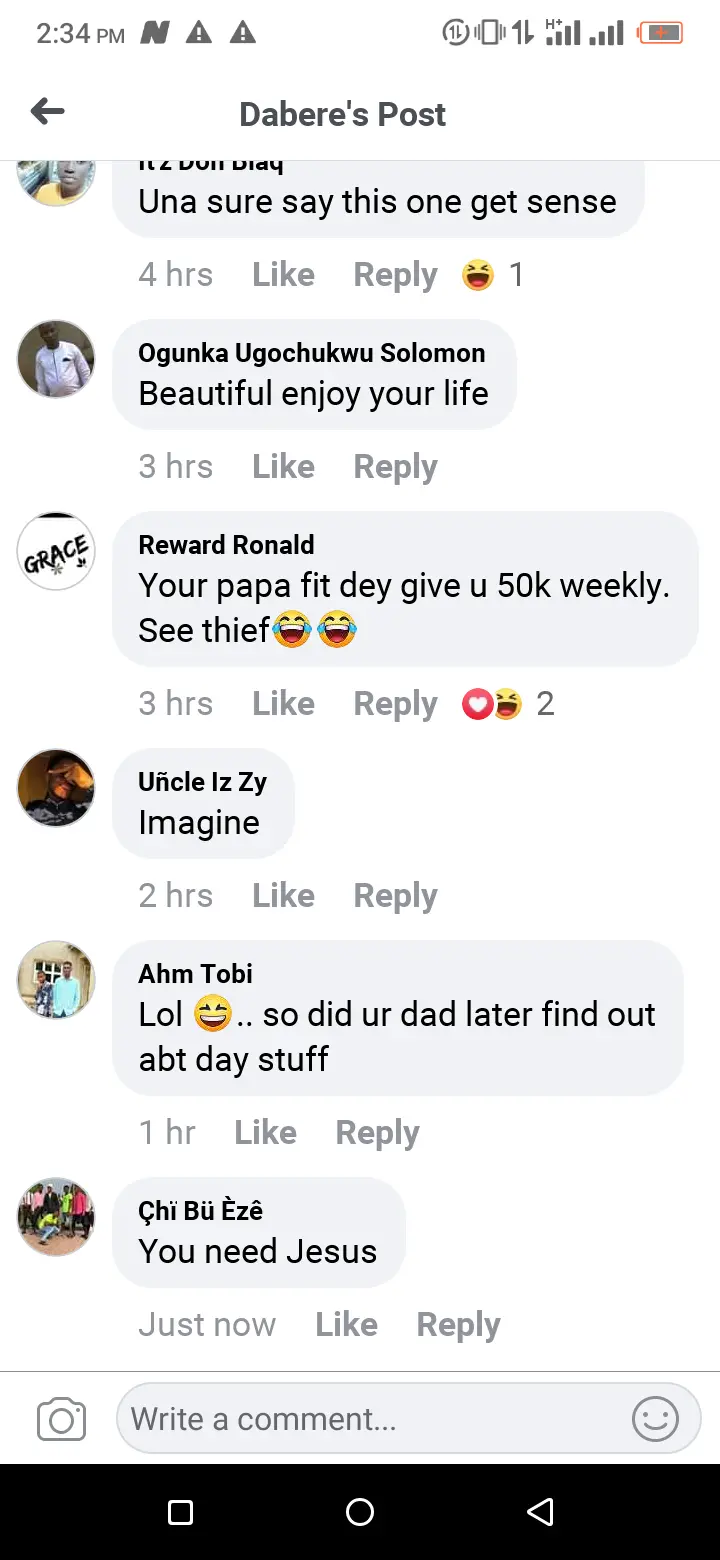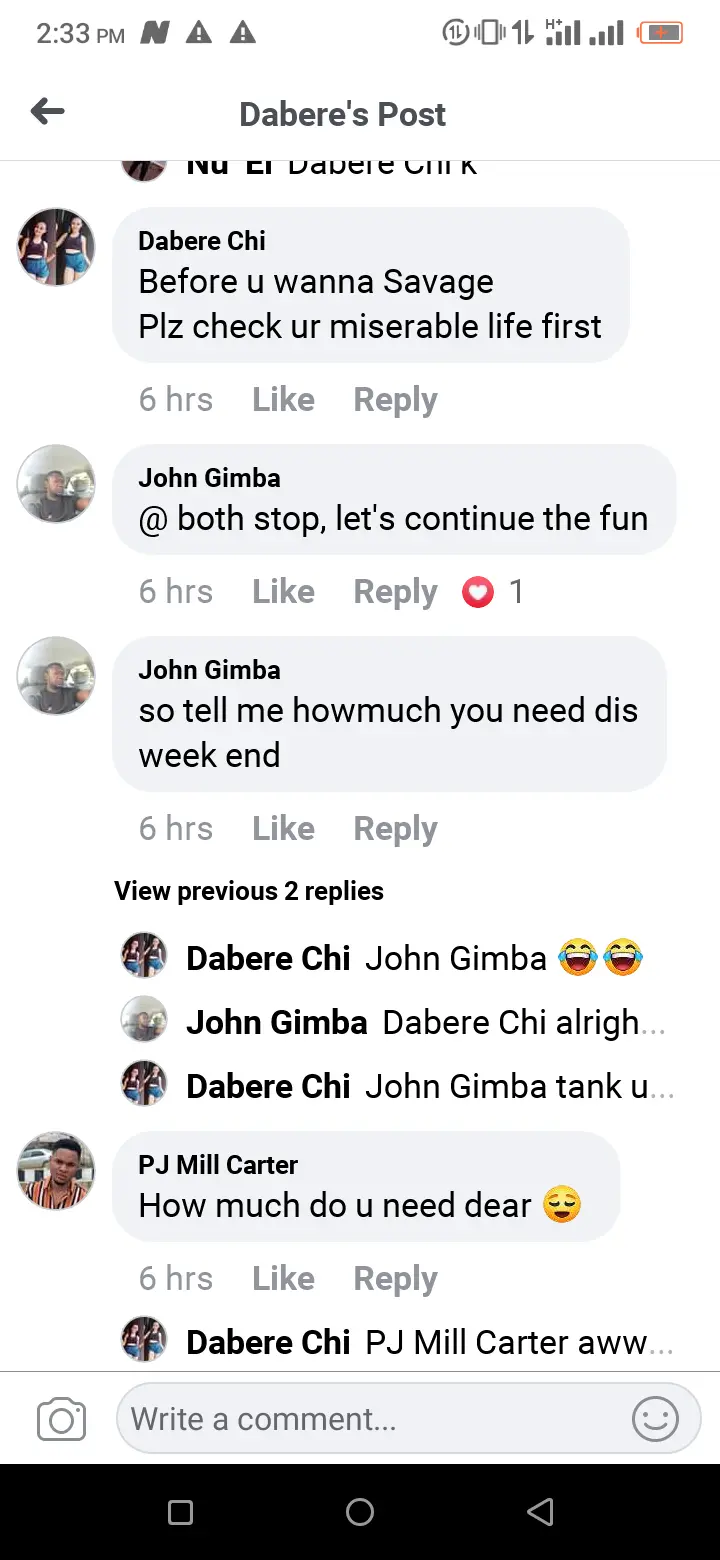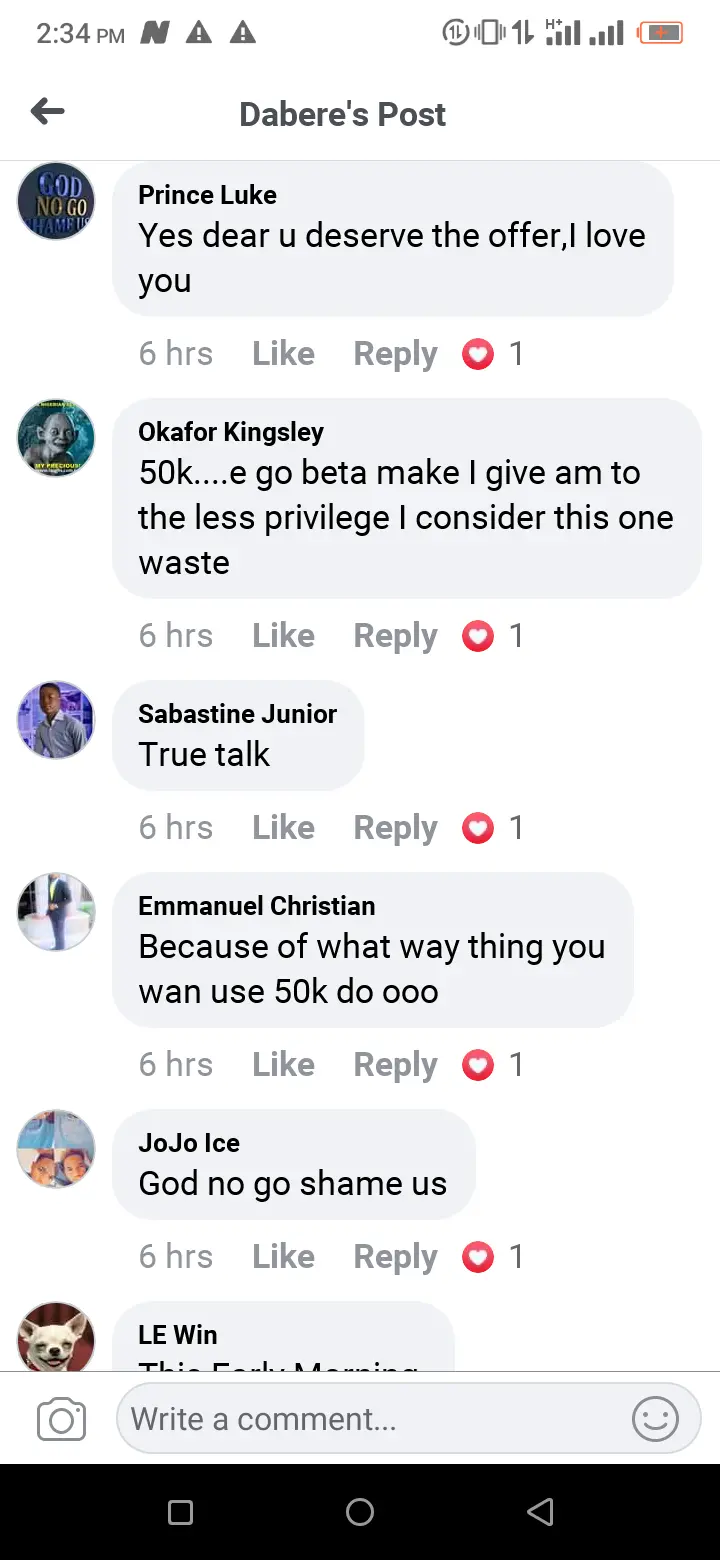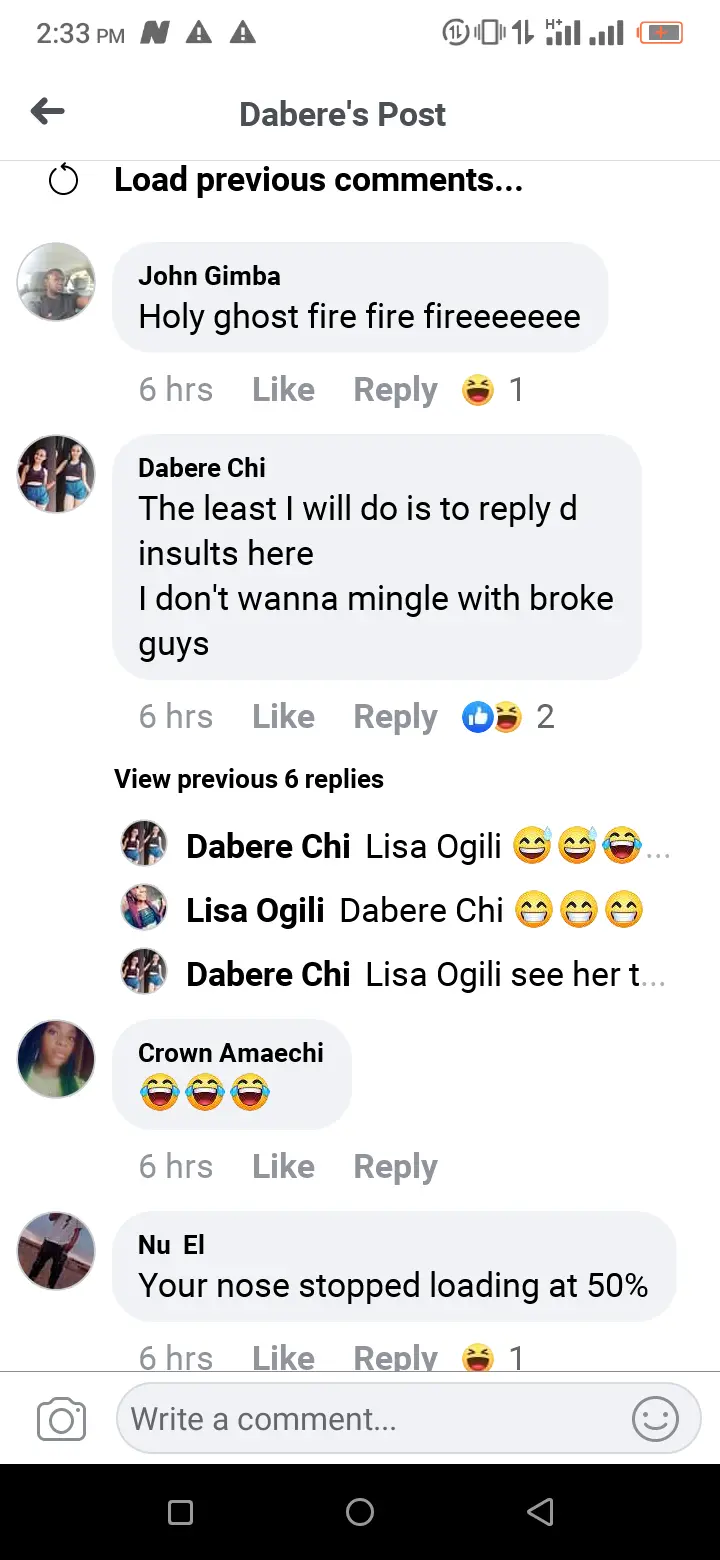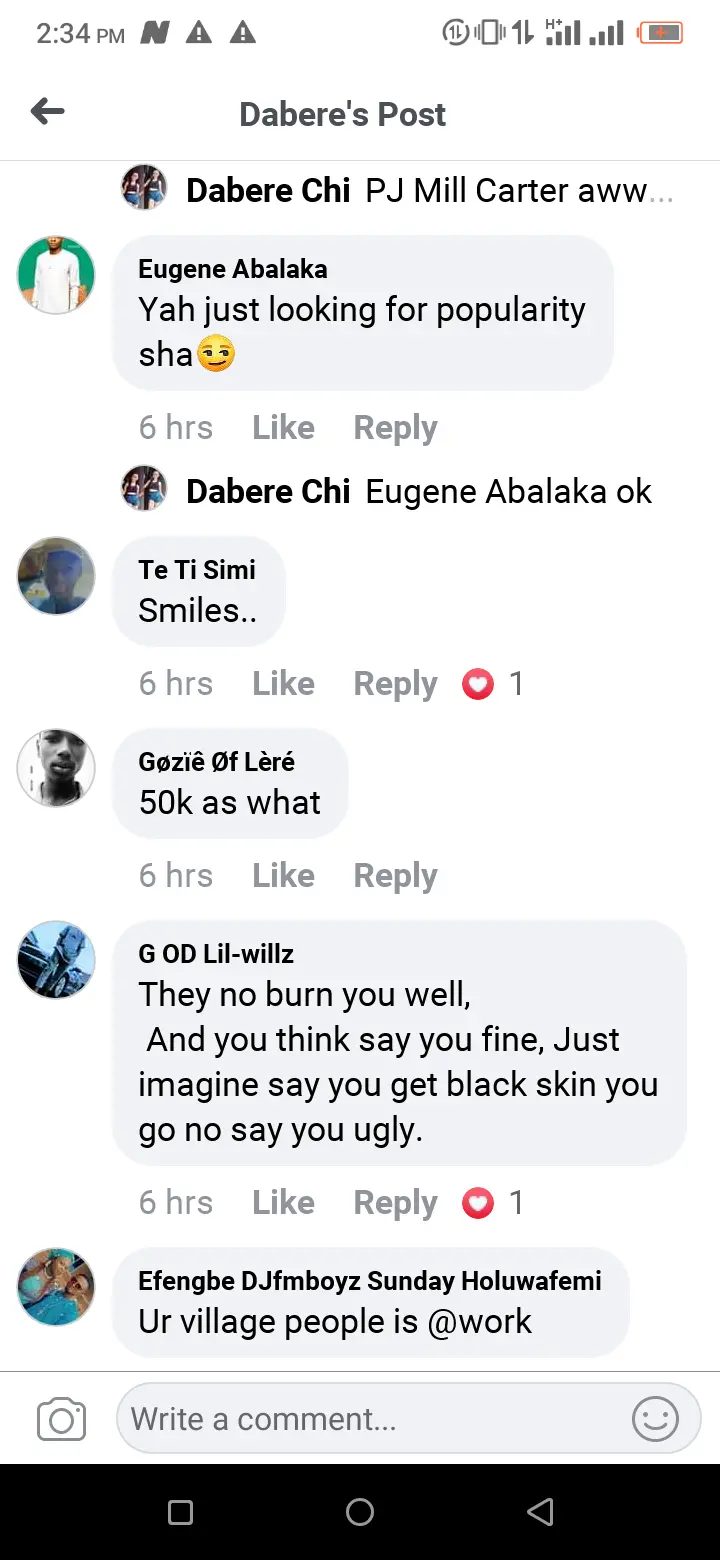 "Will You Welcome Me In 2023?", See Reactions To The Question That Want To Tear Facebook Apart
Facebook is quite a wonderful platform where the diffusion of information is in its high esteem and also where people can exchange their views and make deliberations on what they think. Today, we look at the question that surfaced on Facebook saying "Will You Welcome Me In 2023?" Actually, this question was posted alongside with the photo of Goodluck Jonathan.
1Goodluck Ebele Azikiwe Jonathan is the former president of Nigeria and also one of the best president, Nigeria has ever had. He ruled quite well during his tenure as the president of Nigeria. However, he lost the 2015 election to the recent president of Nigeria, His excellency Muhammadu Buhari.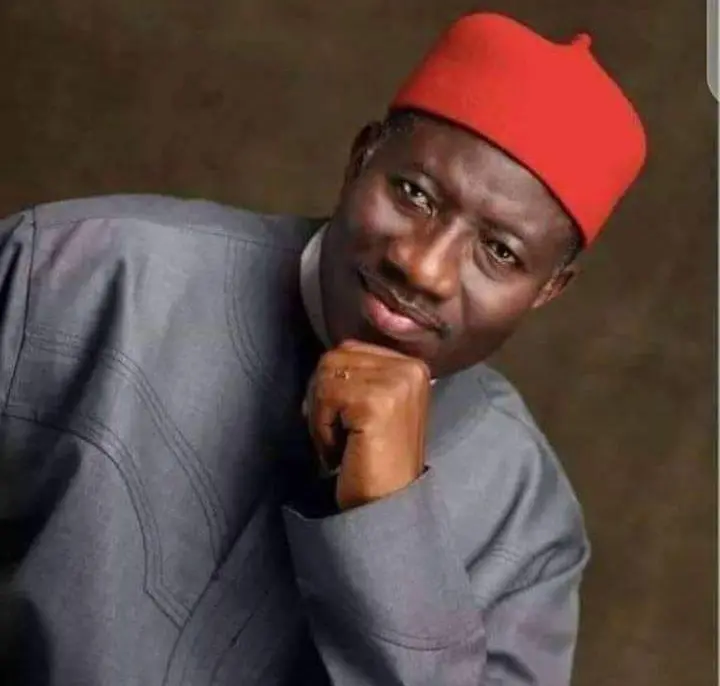 Now, regarding the question that surfaced on Facebook together with the photo of Goodluck Jonathan saying "Will You Welcome Me In 2023?", So many people has reacted to the question and expressing their thoughts.
Below are reactions of people to the question that surfaced on Facebook – "Will You Welcome Me In 2023?"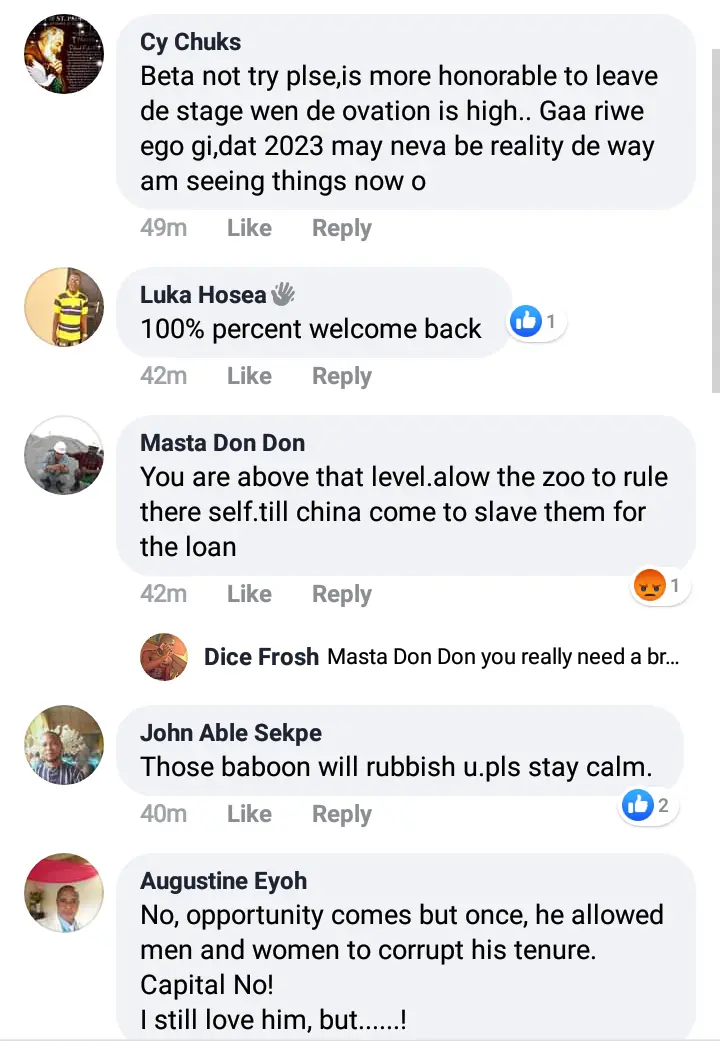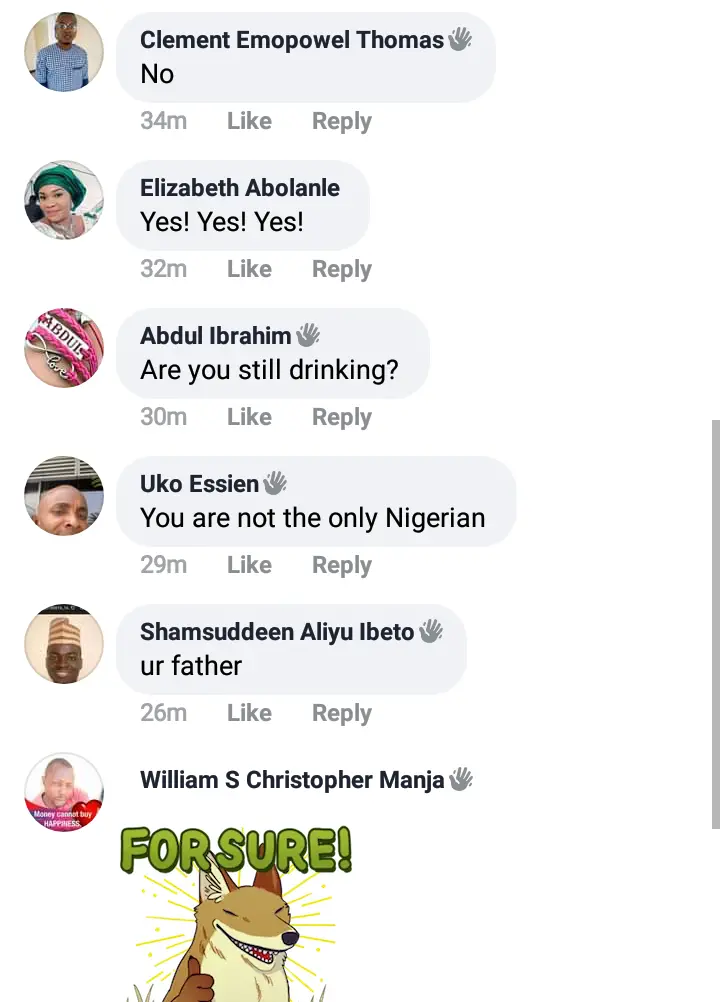 Who knows, if Goodluck Jonathan is to be welcomed back as the president of Nigeria in 2023, he might end up making Nigeria to be better.
Considering this, do you think is a nice idea for Goodluck Jonathan to come back for the 2023 election? Do you think he will win the election? Kindly give your opinion in the comment section below.
Igweochacable is all about breaking news, entertainments, Biafra/ IPOB news update , gist, music, videos and lots more from across the globe .
Reach us via Email: Igweochacablenetwork@gmail.com
Facebook: Igweocha Cable
Twitter: @IgweochaN