"Allow Nnamdi Kanu To Return To Nigeria" – Orji Uzor Kalu Begs Nigerian Government
Senator Orji Uzor Kalu, a former Governor of Abia State and the current Chief Whip of the Senate, has pleaded with the Nigerian government to permit Mazi Nnamdi Kanu, the leader of the Indigenous People of Biafra (IPOB) to come back to Nigeria.
The Senator for Abia North said the discussions for the return of Kanu would include that Nnamdi Kanu will drop the intentions to create a new country, Biafra.
Orji Uzor Kalu made this request while addressing questions from the News Agency of Nigeria(NAN) on Tuesday morning.
He also raised worries about some journalists publishing stories about him that are not verified, he added that various broadcasting houses have continued to circulate gossips and quote his remarks incorrectly.
The Chief Whip of the Senate, who cited an example of when he said he would change Nigeria to a 21st century, if he had the opportunity to lead the country during an online interview, uttered that some bloggers wrongly quoted him to have said the 20th century.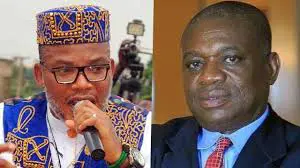 In response to questions on the recent dispute between IPOB members and security personnels in Enugu, Orji Uzor Kalu said he passionately believe in a united Nigeria.
He said that if the federal government allows him, he will go to the United Kingdom and arrange with Nnamdi Kanu to come back to Nigeria. He also said he will convince Nnamdi Kanu to drop the perturbation for Biafra because it is not needed by the people, adding that what is needed is a unified Nigeria that will permit diverse cultures and languages to live in any region of the country harmoniously.
Same Old Deception, Same Old Lies, SARS Is SWAT, SWAT IS SARS, End Nigeria Now! – Nnamdi Kanu Reacts To SWAT Creation
The Leader of the Indigenous People of Biafra, IPOB, Nnamdi Kanu has said that there is no difference between the disbanded Special Anti-Robbery Squad, SARS and the newly established Special Weapons and Tactics, SWAT.
Kanu also stated that SWAT has was not just created but has been in existence since 2018. He disclosed this in a post on Wednesday, October 13 via his official Facebook page.
He wrote,
"#SARS is #SWAT. Same old lies; same old deceit; same old Fulani Cabal
"SWAT has been in existence since 2018. It was announced by the same IGP Adamu.
"Thankfully this generation is now sufficiently enlightened to understand their lies.
"Fulani MUST stop this Taqiyya. Government of liars by liars and for liars is reprehensible. #sarsisswat
"Only by #EndNigeriaNow will all these high-powered Nigerian government deception stop."
Source: Ndigbo link.
"I Salute Your Courage" – IPOB Leader, Nnamdi Kanu Tells #ENDSARS Protesters
The leader of the Indigenous People of Biafra, IPOB, and Director of Radio Biafra,  Mazi Nnamdi Kanu, on Tuesday, lent his voice to the nationwide agitation for ending Special Anti-Robbery Squad, SARS, a unit of the Nigerian Police Force, advising the agitators to resist being compromised.
Mazi Kanu said this in a statement he entitled "EndSARS campaign is heading in the right direction. Only three ingredients are needed now", made available through IPOB's Media and Publicity Secretary, Emma Powerful.
He alleged that the authorities that want SARS to stay may try to bribe and lobby for it to continue, but urged the agitators and their leadership not to compromise in the agitations to end the evil wind that found its way into the Nigeria Police in the name of checking armed robbery.
Mazi Kanu reminded them that consistency is vital at the present stage of the ongoing protests, agitation and campaign to end SARS, just as he urged them not to allow mental fatigue to creep in among them. The IPOB leader said:
"The leadership of various groups on the ground in the agitation making it a must to resist every attempt by ruling cabal to buy them over. "They will throw money at the issue in the hope of buying people off the streets, but they must be resisted. "Consistency is vital at this stage. Don't allow mental fatigue to creep in.
Momentum has a natural multiplier effect. With the momentum the movement becomes unstoppable. "These three key ingredients will deliver victory. After this, things will no longer be the same in Nigeria. I salute your courage. History beckons," Nnamdi Kanu added
Hurray!!!!, Nnamdi Kanu, The IPOB Leader Turns 53 Today, Wish Him A Happy Birthday
Today is officially the birthday of the indefatigable leader of IPOB MAZI NNAMDI KANU.
MAZI was born on the 25th day of September 1967.
Officially MAZI NNAMDI KANU turns 53 years today.
The team of BIAFRA NEWS CHANNEL wants to use this platform to wish him a happy birthday.
HAPPY BIRTHDAY TO YOU SIR
MAY GOD BLESS YOUR NEW AGE AND GIVE YOU LONG LIFE AND PROSPERITY.
ISEEE.
PLEASE WISH OUR LEADER WELL!.
Drop a good wishes for him
#Biafranewschannel #Biafraexit #WalkAway #Rejectnigeria #Biafrans #BiafraReferendum
Give him 1k likes and 1k comments in celebration
Follow our page for more information
Igweochacable is all about breaking news, entertainments, Biafra/ IPOB news update , gist, music, videos and lots more from across the globe .
Reach us via Email: Igweochacablenetwork@gmail.com
Facebook: Igweocha Cable
Twitter: @IgweochaN