Obasanjo Sends Strong Warning To Those Clamouring To Divide Nigeria
Former President, Olusegun Obasanjo has issued a warning to individuals clamouring for division of Nigeria. I stand to tell them that as far as I'm concerned, Nigeria will never disintegrate in my very eyes. We are made to be one and we must remain one  indivisible country, he said.
In an opinion piece on Sunday titled 'Moving Nigeria Away from Tipping Over', OBJ stressed that those beating the drums of war and calling for the separation of the country should remember that the separated parts will still be neighbours. In his words;
"Let me say that we must remind those who are beating the drums of disintegration and singing choruses of bitterness, anger and separation that if even Nigeria is broken up, the separated parts will still be neighbours.And they will have to find accommodation as neighbours or they will be ever at war. And those who prevent justice to be done, invite violence to reign."
ENDSARS Protest Is A Waste Of Time, Let's Join Hands Together To Achieve Biafra – Asari Dokubo Tells Niger Deltans
Ex-Niger Delta warlord, Alhaji Asari Dokubo in a fiery 8:57 minutes video on his Facebook page on Sunday, addressed Niger Deltans participating in the nationwide #ENDSARS protest which he described as a waste of time.
He said: "There is nothing to restructure or remodel about Nigeria. Instead of wasting our (Niger Deltans) time in cooperating with the Yorubas and Igbos in ENDSARS or restructuring protests, the only solution as Niger Delta people is to team together with the Ogonis and the Igbos and Efiks and reinvent Biafra because nobody can oppress the Ijaw man in Biafra.
What we need to do is to seek ye first the political kingdom and every other thing will be added to you because you will control and hold your oil.
"Anything else is not going to work unless we stand up and fight for Biafra. Anybody talking about restructuring, Niger Delta republic or an Ibo Biafra is an enemy of our people because biafra most surely come whether you like it or not.
He also lamented the poor funding of the Niger Delta Development Commission, NDDC compared to the North East Development Commission, NEDC stating that regard less of the debit owed the NDDC by multi-national oil companies for the development of the region, the Federal Government has failed to do anything in ensuring that the debts are paid to the agency.
Asari also cautioned former President Goodluck Jonathan not to fall for calls by emissaries beckoning on him to run for the 2023 presidential election.
Despite being a strong supporter of Dr Goodluck while in and out of office, Asari who expressed displeasure over his consistent visits to President Muhammadu Buhari at the Presidential Villa, used unprintable words on the former president who he lampooned for consistently visiting the Presidential Villa.
He said: "Goodluck Jonathan is now fooling himself running around to Aso Rock thinking that they are going to give him the presidency come 2023.
"They are not going to give you (Jonathan) anything. They will disgrace you and take away that small respect that you have and throw you in the trash can. But we are watching, let them prove us wrong and let us see.
Radio Biafra Should Indeed Be Completely Banned And It's Culprits Brought To Book – Opinion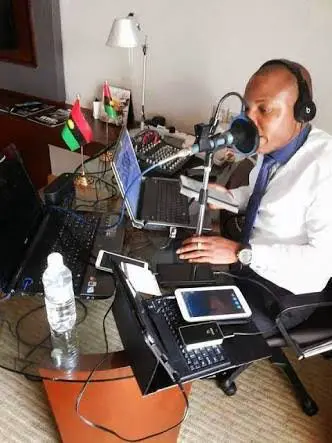 In Nigeria, it is important to note that Indigenous People Of Biafra(IPOB), has been proscribed, however, this outlawed group still runs a radio station within the Nigerian airspace.
Going by the secessionist ideologies of the IPOB, the Federal Government deemed it necessary to completely disband this group, but it's radio station, still sends it's signals into million of homes in Nigeria, thereby selling their secessionist views to the public, while making use of every opportunity to speak I'll of the Nigerian Government.
In my opinion, the Federal Government of NIgeria, the Nigerian Broadcasting Corporation and the Federal Radio Cooperation Of Nigeria, should look into this menace and bring to book all the key players that may have allowed this situation.
Indeed, it's quite saddening that some groups are still pushing for the separation of our dear country and I urge every Nigerian to follow after unity.
Dear friends, what is your take on this delicate issue of discussion?
From opra news.
"Very Soon CNN Is Going To Use Biafra Flag As Their News Headline Every Morning" – Nnamdi Kanu
Home/ news/Biafra :  Very soon CNN is going to use Biafra flag as their news headline every morning
-Mazi Nnamdi Kanu.
The leader of the indigenous people of Biafra, mazi Nnamdi Kanu made this statement during his broadcast on radio Biafra. And this has given more  hope to Biafrans and other Lovers of freedom that not far from now,  Biafra will be restored.
This is also an assurance that Biafra is at the tip of the finger. And when Biafra is restored, CNN  won't have any other option  than to carry the Biafra news which will keep making  headlines for them and other media outlets around the world and with the Biafra flag as their news headlines. The news will keep trending for months.
Biafra is a divine project and it must surely come irrespective of the efforts the saboteurs and the enemies of freedom are making to stop it. For the fact that many heads has went down at the expense of this, and as long  as mazi Nnamdi Kanu, the IPOB leader has lost his parents because of Biafra struggle, he will never ever relent or go back in the quest to restore Biafra. Until Biafra is fully restored, he will not rest in his efforts to achieve this.
And because he was born to restore Biafra, Biafra he will achieve and in  our own time. Let us Support him to make this a reliability because if we fail to restore Biafra this time, we're finished. We will remain in slavery and bondage till thy kingdom come.
Biafra is our last hope, restoration of will put an end to our agony, marginalisation, humiliation and sufferings.
#support Biafra restoration now!
#Dont be an obstacle to the good efforts of Others.
Igweochacable is all about breaking news, entertainments, Biafra/ IPOB news update , gist, music, videos and lots more from across the globe .
Reach us via Email: Igweochacablenetwork@gmail.com
Facebook: Igweocha Cable
Twitter: @IgweochaN